9 Best Immune Support Supplements in United Kingdom
It is true that you get a lot of nutrients, if you eat fruits and vegetables every day. but you seldom reach the required amount of nutrients in order to boost your immune support system. When you don't get enough of certain nutrient on a regular basis. Immune support supplements come into play as an important role. These supplements are made by a wide array of nutrients and vitamins with each playing a particular role in boosting your immune system and covering the nutrients that a meal may not always provide. However, not all vitamin and mineral supplements are the same. Some products are loaded with fillers, chemicals, and components that might do more damage than good to your health. With that said, it is important for you to first understand what to take heed of prior to purchasing immune boosting supplements.
What to Look for in an Immune-Boosting Supplement
i. Source of Ingredients
When it comes to screening for best immune support supplements, ingredients of such supplement have to be the primary consideration. One should only look for supplements with well-known and transparent ingredient sources. You should also choose companies that use high-quality ingredients and types of vitamins and minerals that are readily absorbed. Artificial flavours, fillers, and preservatives or any equivalents are definitely to be avoided.
ii. Identify Key Nutrients that Support your Immune System
There are a slew of supplements on the market that claim to boost your immune support system. When shopping for an immune booster, be sure to seek the following additional ingredients.
Vitamin C, D & E -
Vitamin C influences various elements of immunity, a shortage in Vitamin D increases the risk of lung illness, while a deficiency in Vitamin E improves T cellmediated immune function as we age.
Oregano Oil -
For cold and flu symptoms, oregano oil may come in handy. The antimicrobial and antioxidant benefits of oregano oil are undeniable. Oregano oil and its primary constituent, carvacrol, have been shown to ease cold and flu-related symptom.
Zinc -
A critical nutrient for the innate and adaptive immune systems, as well as for healthy skin and hair.
Echinacea -
Natural cold cures often include the daisy-family genus Echinacea. People who advocate using a supplement derived from this plant claim that it may help alleviate the symptoms of diseases such as the common cold and flu.
Garlic Oil -
Preventing colds and the flu with garlic oil has been found to hasten recovery time, create a defensive barrier on the prevention of colds and flu.
Cannabidiol (CBD) -
In addition to its analgesic, anti-microbial, and anti-inflammatory properties, Cannabidiol (CBD) exerts a broad range of biological effects via the endocannabinoid system. CBD-rich cannabis extracts have been reported to prevent viral infection.
Top 9 Best Immune Support Supplements in UK
When you are sourcing for the best immune support supplements in UK, it is critical to choose reputed brands made with high-quality components. This ensures that your immune support can be taken good care of. Here are the top 9 immune support supplements in UK to help you satisfy your nutritional requirements, along with the reasons for choosing them.
1) Total Immune Support Liposomal Essential Oil, 250ml Liquid Immune, (Health Supplement)
Image Source: https://www.insightclinic.care
Peppermint, clove, neem, geranium, black seed, frankincense, sweet orange, oregano coconut and spearmint are combined in Total immune Support Liposomal Essential Oil to create a healthy and invigorating atmosphere. As an essential oil, Total Immune Support Liposomal Essential Oil helps to maintain a healthy immune system. Pollutants that are transported across the body via the blood may cause a variety of health problems. This essential oil is here to help with a wide variety of health concerns.
2) NOW's Glutathione 250mg (Free Radical Neutralizer), 60 Vegetarian Capsules
Image Source: https://www.ubuy.com.sg
In order to maintain a healthy immune system, NOW's Glutathione 250mg supplement is essential. One of the most significant anti-oxidants, it helps protect cells from free radical damage. Cysteine, glutamic acid, and glycine combine to form the peptide molecule glutathione, which is a powerful antioxidant. Every cell in the body contributes to its production, which is dominated by the liver. Effective detoxification requires glutathione, and a healthy immune system cannot function without it. It aids in the maintenance of a healthy immune system and is essential for effective detoxification.
3) Insight Care: Immune Support Liquid (Liposomal), 3 Packs
Image Source: https://www.insightclinic.care
Organic natural oil is used to make Insight Care Immune Support Liquid (Liposomal), which is ideal for supporting the immune system and the digestive system. Toxins were designed to be excreted by the human body in this way. Unfortunately, in today's world, with thousands of chemicals added to our food and present in the air and drinking water, our bodies can easily get overburdened, compromising our bodies ability to protect ourselves. Many illnesses are caused by toxinss that circulate throughout the body and block the circulatory system. Many people who suffer from health issues are now using Immune Support, to help their bodies fight off sickness, Immune Support provides them with the tools they require.
4) Kirkland Signature Daily Multi
Image Source: https://cdn1.evitamins.com
The absorption and activation of vitamins and minerals are interdependent. Taking a multivitamin ensures that your body processes all of the nutrients it receives in the most efficient manner possible. Vitamin C, vitamin D, Magnesium, Iron, and B vitamins are found in multivitamins. The United States Pharmacopeia has approved and certified Kirkland's supplements, making them one of a select few available on the market (USP). For a product to be marked as USP Verified, it signifies that it contains exactly what it says it does on the label. There are no dangerous amounts of identified pollutants in the product, thus this is a good thing. As a result, it guarantees that goods are manufactured in accordance with FDA and USP GMPs, which are hygienic and well-controlled procedures, and tests to verify that the active components can be released and absorbed by the body within a specific period of time.
5) Omega 3D from Nordic Naturals
Image Source: https://cdn.shopify.com
EPA and DHA, two vital fatty acids, are combined with vitamin D3 in this supplement to provide an even more strong immune support. Increased infections have been linked to a defiency of vitamin D, according to research. In addition to increasing mood and heart health, fish oil has been shown to reduce cancer risk as well as many other health benefits. The important omega 3 fatty acids present in fish oil have such a wide-ranging effect on the body because they strengthen cell membranes and enable them to fulfil their functions more effectively.  In order for vitamin D to be absorbed properly, fat molecules must accompany it throughout the body. Each Nordic Naturals Omega 3D pill contains 1,000 IU of vitamin D3 and omega 3 fatty acids from wild, responsibly obtained fish. As well as supplying 1,000 IU of vitamin D3, this supplement also contains 745 milligrammes of EPA and 500 milligrammes of DHA per dose, both at or over the recommended daily level. Vitamin D3 and EPA/DHA work together to boost the body's overall immune support system.
6) Nano C from Zenith Labs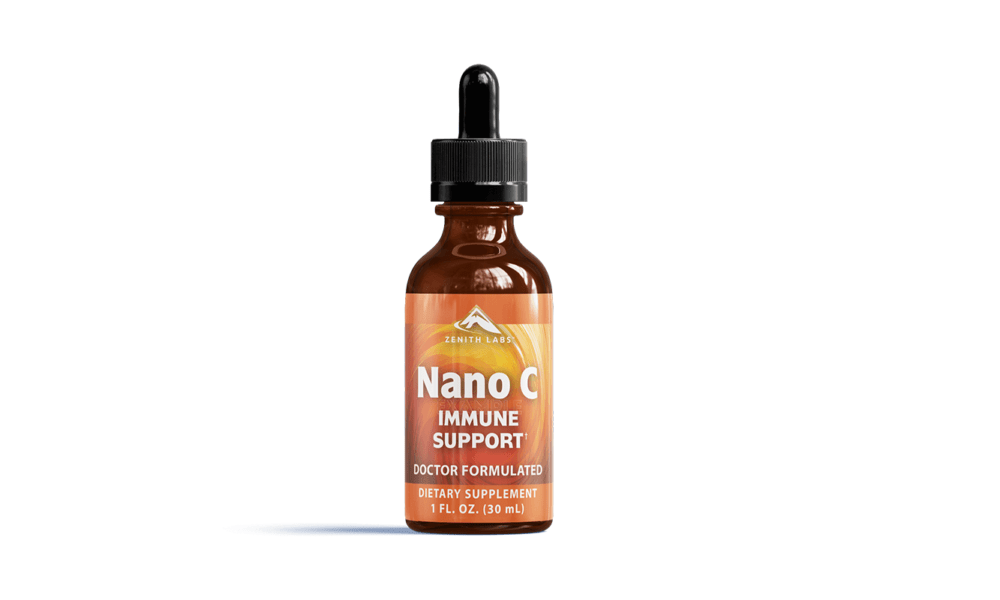 Image Source: https://powdersvillepost.com
What you're taking here is Vitamin C. One of the most prevalent compounds in immune boosters is vitamin C, which can be found in almost every one of the products on our list. Vitamin C is one of the most effective antioxidants that nature has to offer. The 'Nano' variants of Vitamin C in the Zenith Labs Nano C give it a powerful punch. It is a tenth of the size of naturally occurring Vitamin C. It signifies that your body is more able to absorb the vitamin. To help your immune support system, it increases the generation of antibodies. In turn, this may speed up the healing process when a bacterial or viral infection has occurred.
7) Immune Defense, MegaFood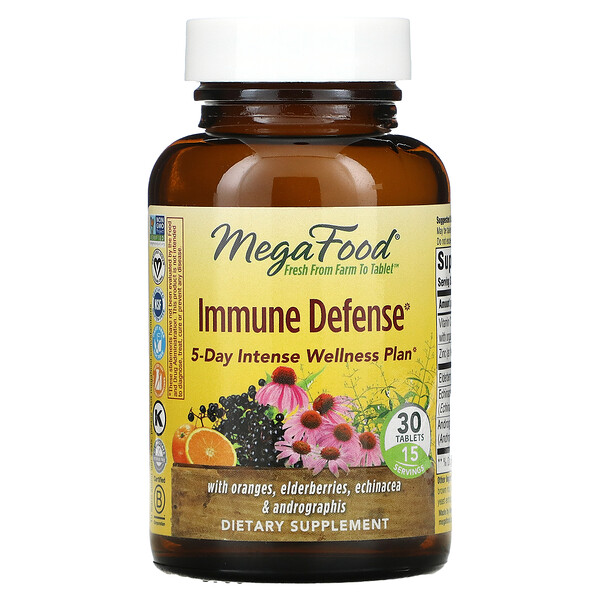 Image Source: https://s3.images-iherb.com/
If you're looking for the best vegan immune formula, this is the one. MegaFood suggests that customers take two tablets of this immune supplement three times a day for five days when they require more intensive immunological support and care. It's when you need it the most, they say. Vitamin C (750 mg), zinc bisglycinate (15mg), elderberry, echinacea, and andrographis extract (potent) are all included in the suggested dosage for this product. Additionally, this vegan supplement is GMO-free, gluten-free, dairy-free, soy-free, and Kosher.
8) Advanced Bionutritionals Resistol
Image Source: https://m.media-amazon.com
Resistol, a holistic botanical supplement, is a departure from the other supplements on this list. Resistol employs uncommon plant extracts and herbs to help you become healthy instead of standard vitamins like vitamin C and vitamin D. Andrographis, Platycodon, Eleuthero, and other herbs make up the five-herb supplement that fights upper respiratory tract infections. Other than Resistol, no other supplement on this list contains what the makers of Resistol refer to as "Bionutritionals." You may pick up a bottle if you're looking for something unique backed by scientific data.
9) Source Naturals Vitamin D-3 Liquid Drops
Image Source: https://m.media-amazon.com
This liquid drop is for those who have difficulty swallowing tablets. Dosing may be changed by the user by increasing or lowering the quantity of drops taken, but for individuals who desire more or less vitamin D, dosing can be increased or decreased directly. An ideal alternative for persons with food allergies and/or intolerances, this product is free of yeast, dairy and wheat.
Conclusion
Start pay attention to your immune system on a regular basis, even if it's something you've never done before. This proactive approach is vital for health. Improving your body's immune system might be as simple as taking an immune vitamin every day. With Insight Care, you now can have quick access to the best immune support supplements in the UK which may help your body fight against viruses.